♫ Thursday, September 16th, 2010
Master Salim
Master Saleem (Punjabi: ਮਾਸਟਰ ਸਲੀਮ; born July 13, 1980) sometimes referred as Saleem Shahzada (Salim Shahzada) is an Indian singer from Punjab, known for his work as a playback singer in Bollywood films, like Heyy Babyy (2007), Dostana and Love Aaj Kal (2009). He has also released private albums, of Punjabi Music, Religious and Sufi music.
He was born Saleem Shahkoti (Saleem Shahzada), in Shahkot, near Jalandhar, Punjab. He is the son of the famous Sufi singer Ustad Pooran Shah Koti, who was also the guru of folk singers, Hans Raj Hans, Jasbir Jassi and Sabar Koti. At the age of six Saleem also became his disciple and started learning singing.
At the age of 10, he gave his first public performance at the opening ceremony of Bathinda Doordarshan (TV station), with his song, Charkhe Di Ghook, and thus earned the name Master Saleem. Soon he started appearing on TV shows like, Jhilmil Taare.
About His Father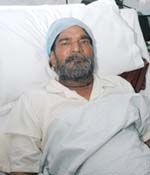 Jalandhar, May 18 (ANI): Having dedicated his life to popularize Sufi music, Ustad Puran Shah Koti is today held in deep respect by some of the best known names of the Punjabi music world.
Ustad Koti holds the distinction of having trained some of the popular Punjabi singers including Han Raj Hans, Jasbir Jassi and Master Salim. "Singing is god's gift to me. My father Ranjan Das taught me singing. I took further training from Waqir Hussain `Sahab' of Patiala. My wife gave me her support during bad times -when we had nothing to eat and no shelter," says Puran Shah Koti, the sufi singer. He narrates how he moved to Shahkot in Jalandhar and took shelter in a small hut. It was there that he taught music to Jasbir Jassi and Hans Raj Hans.
He claims to have no knowledge of any 'technical method' of singing. He calls himself "a nomadic singer". "They listened to me and then followed my way of singing. I guess that's how they have learnt singing from me," says the legendry singer Koti.
"I wish what we have learned from our forefathers could live forever because singing is eternal. I want to sing in the same way as I have sung my whole life. I have no interest in money and I don't want any awards. But my only aim is to make the upcoming generation aware of Sufism, classical music, heritage, culture, food and singing," says Puran Shan Koti.
Saleem's first album, Charkhe Di Ghook, was released when he was 10 years old. It was released on the label Sur Taal, created by his father's friend, Majnider Singh Goli, and went on to become a hit. This led to several Punjabi music and religious albums and live shows. His song Dhol Jagiro Da also became a huge hit and giving him wide popularity. In the late 1990s, however as he was growing his voice started changing, which lessened his popularity. He made his comeback in 2000, with a hit Aj Hona Deedar Mahi da, which he sang at a New Year's programme at Doordarshan channel, and later released albums dedicated to Goddess Durga including, Mela Maiya Da (2004), Aj Hai Jagrata, Meri Maiya and Darshan Kar Lao.
Around 2005, singer Jasbir Jassi introduced him to music director Sandeep Chowta, who subsequently called him to Delhi to record single Sajni in Sony Music album Teri Sajni.
Eventually Shankar Mahadevan, of the music trio Shankar-Ehsaan-Loy, heard his performances at a jagaran at the Devi Talaab Mandir, Jalandhar, being aired at a religious TV channel, and thus Saleem made his debut as playback singer with single "Mast Kalandar" from the film Heyy Babyy (2007) under their music direction. The song was a hit and launched his Bollywood career. This was followed by most well-known singles including "Tashan Mein" from the film Tashan and Maa Da Ladla from the film Dostana (2008), and Aahun Aahun in Love Aaj Kal (2009).